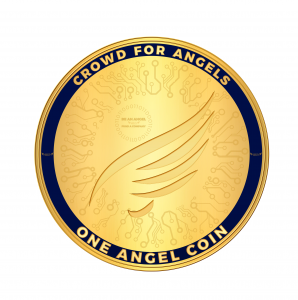 Crowd for Angels is currently looking to raise up to £50 million via the issue of its "Liquid Crypto Bond", along with an ICO (Initial Coin Offering) of its ANGEL tokens. But what exactly are ANGEL tokens and how do they work?
Token Distribution
Crowd for Angels will issue a maximum of 5 billion ANGEL tokens assuming that the total £50 million is raised. For every £1 invested, 100 tokens will be allocated. Investors will be receiving up to 99 tokens per £1 invested and Crowd for Angels retaining the balance.
How much will the tokens cost me?
Tokens are being issued to investors as a reward for investing in the Bond at no additional cost to themselves. At the choice of the Bondholder, interest may be paid either in cash or tokens.
Why is Crowd for Angels issuing tokens?
Our current marketing methods have been tried, tested and proven to grow our user base of investors, deliver conversions and attract pitches to the platform. However, we do not believe that the cost/benefit ratio is economical and we seek a more competitive and efficient form of marketing to attract and retain investors.
Using the retained tokens generated during the fundraise, Crowd for Angels will attract attention for the platform by rewarding users who complete actionable 'events' with free ANGEL tokens. Users will benefit from token rewards by engaging with our website, apps, advertising and media. This will help foster user interaction, loyalty and spread content through the internal and external network.
What will the tokens be worth?
At the outset the tokens will have no value. However, Crowd for Angels expects to have the tokens traded on external exchanges following their issue. The company will support their value by allocating a proportion of revenue to open market purchases of tokens, thus reducing their supply and, in theory, raising the price. An agent based model computed by data scientist Dr Stylianos Kempakis suggests that the value of the token could reach £1 during the life of the Bond.
Is the token sale regulated by the FCA?
No. The tokens are not classified as an investment. Crowd for Angels is regulated by the FCA however, as is the bond issue, so investors can be confident that we are applying our current procedures and best practices to the offer.
For more information on the Liquid Crypto Bond and ICO visit https://crowdforangels.com/company/plc/Crowd-for-Angels-UK-Limited-1031
RISK WARNING
Investing in debt pitches through Crowd for Angels (UK) Limited involves lending to companies and therefore your capital is at risk and interest payments are not guaranteed if the borrower defaults. Forecasts are not a reliable indicator of future performance. Please visit https://crowdforangels.com/risk-warning to read the full Risk Warning.
The prices of virtual goods and products, like real goods and products, constantly fluctuate over time. Any currency, virtual or otherwise, could be subject to large swings in value and at any time might become worthless. ICOs are not regulated by the Financial Conduct Authority.
This article has been approved as a Financial Promotion by Crowd for Angels (UK) Limited (Company number: 03064807), which is authorised and regulated by the Financial Conduct Authority (Reference number: 176508).