It's a well known fact that the majority of start-up companies fail to be a success. This could be down to a bad product, poor marketing, high competition or a number of other factors. But even if companies are successfully selling their wares, hundreds, if not thousands of them, can fail due to poor cash flow management.
Getting customers to pay their invoices promptly can be a major challenge for entrepreneurs. And when clients eventually do pay their bills companies can experience additional delays via the banking system. For example, traders who take card payments typically have to wait at least 72 hours for funds to be cleared and reach their bank accounts.
This is down to the way that current banking systems are organised, with transactions processed via a slow and archaic centralised system. Waiting even three days for payment can cause considerable pressure on small companies' cashflow, restricting their ability to pay bills and invest in growing the business.
But two rapidly developing and disruptive technologies known as "blockchain" and "distributed ledger" are helping to speed things up.
Blockchain is a technology which is behind the way crypto-currency Bitcoin works.
Put very simply, the blockchain is a public (or distributed) ledger which records ownership of an asset. In contrast to current systems – which use a private and centralised ledger – copies of the blockchain are stored on thousands of computers across the world. Being distributed freely and openly the technology is able to approve transactions much more quickly by cutting out the middleman and obtaining a consensus approval.
The industry has received much attention in recent years, with a recent report from Santander entitled Fintech 2.0 suggesting that distributed ledger technology could save banks up to $20 billion in costs by 2022.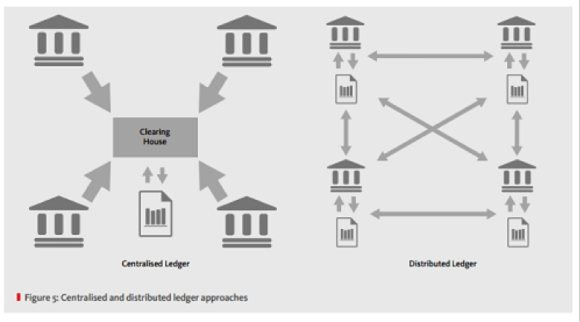 Distributed ledger vs centralised ledger. Source: Santander Fintech 2.0 Paper