By Andrew Adcock, Chief Marketing Officer, Crowd for Angels
In the UK the market for equity and debt crowdfunding, including peer-to-peer lending, started to take off in the years following the financial crisis of 2008/9.
Market
According to estimates from innovation charity Nesta, peer-to-peer business lending grew by 99% to £1.49 billion in 2015, with equity-based crowdfunding up by 295% at £332 million.
However, intervention by governments and institutions into the market, particularly by favouring larger entities for investment and support, is distorting the market and making it difficult for smaller players to operate on a level playing field.
Despite the growth seen, industry profitability still seems a long way off.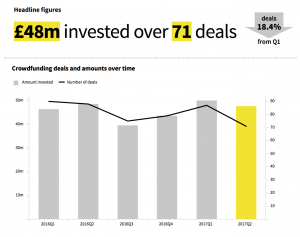 [Beauhurst, The Deal – H1, 2017]
In the equity crowd funding space the situation is even more difficult. Market leaders in equity crowdfunding, Crowdcube, made an operating loss of £5.39 million in the year to September 2016. Research from Beauhurst shows a 4% decline in funds raised for equity during Q2 2017 (shown above).
In contrast, data from Coindesk shows that $1.27 billion was raised via ICOs in the three months to July 2017 alone. ICOs are growing so quickly that the cumulative total raised has recently overtaken the total amount raised by blockchain start-ups through traditional venture capital firms.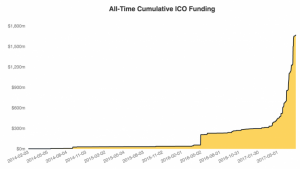 [Coindesk statistics – Aug 2017]
Regulatory framework
Initial Coin Offerings have recently caught the attention of various regulators around the world including the Financial Conduct Authority, with the UK regulator issuing a warning to consumers over the risks associated in the industry. It highlighted that ICOs can be very high-risk, speculative investments, with most not coming under the regulatory framework in the UK.
Perhaps, the issue that is most troubling for ICOs is falling foul of the securities legislation in the various jurisdictions they operate in. ICOs have been accused of breaking securities laws in the USA, China and a host of other countries. The regulations surrounding investment based crowdfunding have been in place for some time and appear to work well.
"So does this signal the demise of traditional crowdfunding?"
Crowd for Angels
Authorised by the Financial Conduct Authority (FCA), Crowd for Angels runs a crowdfunding platform for both debt and equity funding. Launched in January 2014, we have successfully raised several million pounds for companies via a mix of equity and debt pitches.
It therefore seems a natural progression for Crowd for Angels to consider the merits of the ICO market given its close affinity to crowdfunding and its capacity to fund large transactions through the use of crypocurrency or fiat. We are therefore looking to enter the ICO market and in the first instance for ourselves.
We believe we have developed a product, the Liquid Crypto Bond (LCB) that overcomes the problems associated with ICOs that fall foul of securities laws. Furthermore, by combining the issue of tokens with our debt or equity products, you can ensure that the interest of token holders is aligned with that of equity holders – this is something we feel many ICOs are current lacking.
Crowd for Angels will soon be launching an ICO. keep up to date with the launch of this ICO, please visit: crowdforangels.com/ICO 
The above is a snippet from Octobers edition of ICO Crowd. Read the full article below
ICO Crowd-CFA

RISK WARNING
Investing in small public listed or private companies involves risks, including illiquidity, lack of dividends, loss of investment and dilution, and it should be done only as part of a diversified portfolio. Investing in debt pitches through Crowd for Angels (UK) Limited involves lending to companies and therefore your capital is at risk and interest payments are not guaranteed if the borrower defaults. Past performance is not necessarily a guide to future performance and forecasts are not a reliable indicator of future results.
Crowd for Angels is targeted exclusively at investors who are sufficiently sophisticated to understand
these risks and make their own Investment Decisions. You will only be able to invest via Crowd for
Angels once you are authorised.
Please visit crowdforangels.com/risk-warning to read the full Risk Warning.
This email has been approved as a Financial Promotion by Crowd for Angels (UK) Limited (Company number: 03064807), which is authorised and regulated by the Financial Conduct Authority (Reference
number: 176508). Investments made in companies listed on the Crowd for Angels platform are not
covered by the Financial Services Compensation Scheme (FSCS).
The availability of any tax relief depends on the individual circumstances of each investor and of the
company concerned, and may be subject to change in the future. If you are in any doubt about the
availability of any tax reliefs, or the tax treatment of your investment, you should obtain independent
financial advice before proceeding with your investment.
The prices of virtual goods and products, like real goods and products, constantly fluctuate over time.
Any currency, virtual or otherwise, could be subject to large swings in value and at any time might
become worthless. As such, the value of your holding may increase or decrease over time or even go to
zero.
Cryptocurrencies, tokens and other digital currencies are not regulated by the Financial Conduct
Authority and therefore do not offer recourse to the Financial Ombudsman Service or the Financial
Services Compensation Scheme.