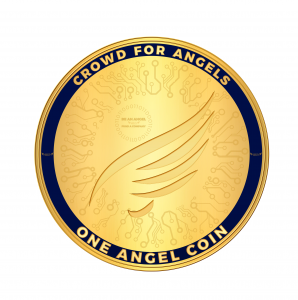 CROWD FOR ANGELS ICO PROGRESSING AHEAD OF SCHEDULE
Crowdfunding platform Crowd for Angels is pleased to announce that is making progress in advancing its unique "Liquid Crypto Bond" issue and Initial Coin Offering (ICO) of its ANGEL tokens. The company is looking to raise up to £50 million through the bond issue and is issuing free ANGEL tokens to investors as a reward for their participation.
– The ANGEL Token has been developed, audited and is in the process of being released today – four weeks ahead of schedule. Providing liquidity in the token, it is expected to be listed on a number of external exchanges in the coming weeks. This is ahead of the release to investors in the bond and provides a clear executable vision.
– Marketing efforts have been accelerated, with the senior Crowd for Angels' team currently on a worldwide promotional tour. In the past few weeks CEO Tony De Nazareth and Chief Marketing Officer Andrew Adcock have attended and spoken at a number of events including; the Blockchain Forum, India; World Blockchain and Token Summit, Dubai; the Crypto Investor Show, London; and the Blockchain and Bitcoin Conference in Geneva and Gibraltar.
Tony De Nazareth, Director of Crowd for Angels said, "The technical aspects of our token issue are progressing ahead of schedule prior to release to our investors. Having met hundreds of investors around the world in the past few weeks we are pleased about the reaction to our bond and token issue and hope to announce further progress in the coming weeks".
For more information on the bond issue and ICO visit https://crowdforangels.com/ICO
For further information please contact:
Crowd for Angels
Tony De Nazareth, Director & Founder
020 7437 2413 | [email protected]
About Crowd for Angels
At Crowd for Angels, Our goal is to bring innovative and appealing products to investors and to provide funding for companies throughout their growth cycle. We help companies raise funds through the issue of shares and bonds on our regulated crowdfunding platform.
Our investors get the opportunity to invest in shares in a tax efficient manner through the use of SEIS/EIS tax relief and through Bonds that can be held in a tax free IF-ISA wrapper. We never charge our investors any fees and companies looking for investment only pay if the funding is a success.