There has been an explosion in the interest surrounding security tokens and STOs (Security Token Offerings) also known as Digitalised Assets. Unlike ICOs, that relied heavily on the value appreciation of a 'utility' token, security tokens benefit from real-world assets they represent. This connection helps bridge the gap between traditional finance and the blockchain world.
Below we have produced five simple images that will give you an introduction into this world of security tokens.
Definitions
A blockchain (block chain) is a growing list of records, called blocks, which are linked using cryptography. Each block contains a cryptographic hash of the previous block, a timestamp, and transaction data.
A smart contract is a computer protocol intended to digitally facilitate, verify, or enforce the negotiation or performance of a contract without third parties. These transactions are trackable and irreversible.
A cryptocurrency (or crypto currency) is a digital asset designed to work as a medium of exchange that uses cryptography to secure financial transactions, control the creation of additional units, and verify the transfer of assets.
A digital wallet refers to an electronic device or online service that allows an individual to make electronic transactions. A cryptocurrency wallet stores the public and private keys which can be used to receive or spend a cryptocurrency.
Image 1) Technology

A security token is a unit of ownership where the terms and conditions are defined and enforced using software in the form of a smart contract. This smart contact is stored and recorded on a shared and distributed database accessible by anyone, called the blockchain.
Image 2) Digital Ownership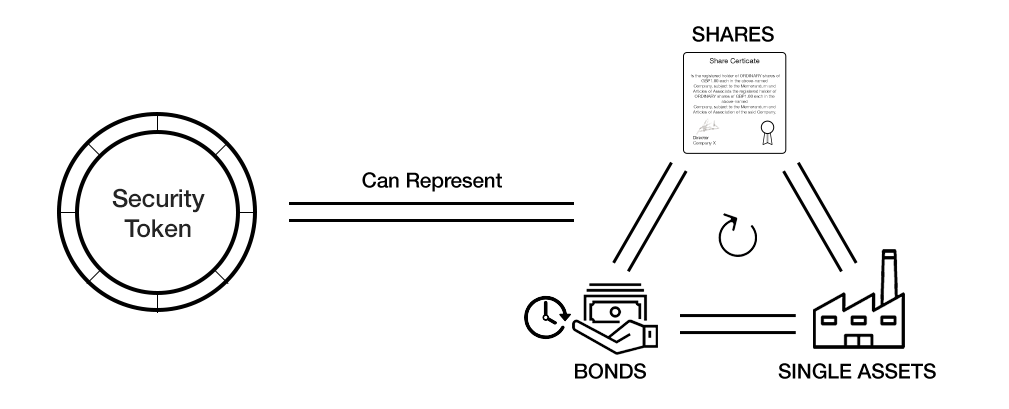 A security token represents digital ownership of a real-world asset/security. This can be in the form of shares, bonds or any other common asset such as real estate, a commodity or even a fund.
Security tokens are legally recognised as the asset and should come with the same real-world protections.
Image 3) Storage and Security

Security tokens are held by an individual and can be safely and securely stored on a computer, mobile device or hardware device in a digital wallet. By storing the token in a digital wallet, the holder/investor has ultimate control and can transact at their discretion.
Image 4) Transferable

Security tokens can easily be transferred quickly across the world, from one wallet to another, by specifying the recipient's wallet address and the amount to be transferred.

However, before a recipient can receive a security token they need to be 'whitelisted' by the issuer of the token, for compliance reasons
Image 5) Transparency

Each and every transaction is recorded on the blockchain and available to the public. Each record is immutable i.e. it cannot be destroyed, thus offering complete transparency within the system.
For information on the benefits of security token offerings, click here.