Investment Reward

Introduction
Today's highly globalised mineral supply chains have the potential to link companies as well as investors, banks and consumers to conflict and human rights abuses. Being accused of facilitating conflict and human rights abuse is a serious problem for publicly traded companies. Worse, so are the costs of compliance that those who can least afford it (the debt-ridden artisanal miner) incur in order to prevent these corporations from being exposed to this risk.
Whether in the Democratic Republic of the Congo (DRC), Rwanda, Uganda, Tanzania, Angola, Mozambique, or elsewhere precious stones, diamonds, minerals and other natural resources that are traded and used internationally play a central role in funding and fueling conflict, terrorist groups, organised crime, government corruption, money laundering, human rights abuses and more.
Precise control over the exports and imports of raw materials is critical for reducing unethical behavior and strengthening responsible-sourcing in Conflict-Affected and High-Risk Areas (CAHRA) such as the Democratic Republic of the Congo (DRC).
To that end, GemTrax.io Ltd ("GemTrax") has deployed a comprehensive set of physical, logical and administrative protocols paired with an immutable record-of-truth to ensure the integrity of information. We provide assurance that users are not contributing towards conflict and human rights abuses. We are building trust, identity and capacity for those who need it most.
Buyers and sellers of diamonds and gemstones will use the GemTrax Mobile App on an off-the-shelf Android smartphone that comes with a fingerprint reader, GPS, Camera, NFC and QR Code reader, to collect data, in conjunction with tamper proof bags and NFC tags to track the change of custody and financial transactions of registered diamonds and gemstones from participant to participant. Some data will be pushed to a cloud based Hyperledger blockchain. The end result is an immutable and easily audited record of the materials journey from mine to cutter/polisher and jewellery manufacturer. Ultimately, we want to create a responsibly sourced diamond and gemstone ecosystem.
Company Structure
GemTrax.io Ltd (12172221) is a private limited company incorporated under the Companies Act 2006 and the laws of England and Wales. The fiscal year end is December 31.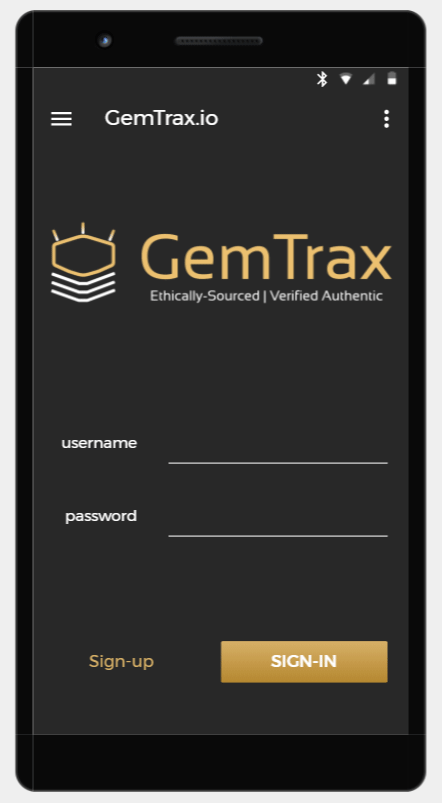 Products and Services
Our vision includes creating a digital marketplace for buyers and sellers of diamonds and gemstones to conduct business. We will reach out to as many participants in the supply chain as possible to join the marketplace to make it as broad based and inclusive as possible. Miners of all sizes, traders, auditors, compliance, traceability groups, whether they are using the GemTrax App or not, and even if they are a competitor of GemTrax, will be invited to join the marketplace.
The marketplace is not intended to generate revenue solely to GemTrax, rather it will facilitate the uptake of our App and continue to broaden our sources of data acquisition, which makes our App more valuable.
The vision also includes the marketplace issuing a utility token to incentivize people to join the marketplace. The utility token can be used as a medium of exchange for goods and services between members of the marketplace. The intrinsic value of the token is enhanced access to internet infrastructure that GemTrax deploys in conjunction with Sentrifuge Inc. The utility token is not intended to be construed as an investment instrument however. Ideally the utility token will not fluctuate in value wildly, rather have a steady and relatively stable value.
Marketing and User Growth Strategy
The GemTrax strategy for capturing market share and increasing users includes targeting specific upstream gemstone supply chain stakeholders in key CAHRA markets. First, GemTrax will target key traders and exporters. The upstream segment of the gemstone market features a large numbers of miners, operators, transporters and local traders to get gemstones from remote mine sites to points of export. However, these upstream actors often cannot afford or do not have the expertise or licenses to legally export the gemstones. The number of formal, legitimate international traders in CAHRA gemstone markets is further restricted by access and relationships to midstream and downstream participants needed to fully process the asset across international boundaries Thus, these participants rely on a small number of international traders for exporting the gemstone parcels.