Patria Watch Co is a 127-year-old luxury Swiss watch brand, originally founded in Bienne, Switzerland in 1892. The brand has been revived by Patria Ltd., a UK company, trading as 'Patria Watch Co'.
The first edition will be available in April, 2020. Patria Watch Co. has made an advance sales of £18,242 for 5 watches. It has further orders for 24 watches.
Above: The 2019 Patria Brigadier Chronograph, which has already been produced
THE HISTORY OF PATRIA
In 1848 Louis Brandt founded the 'Comptoir d'établissage' in La Chaux de Fonds, Switzerland, a company that produced key-wound precision pocket watches from parts supplied by local craftsmen. After Brandt's death in 1879, his sons, Louis-Paul and Cesar, under their father's company 'Louis Brandt & Fils', decided to begin producing in-house movements for quality control under various brand names. These included Jura, Helvetia, Omega and Patria.
By 1889, Louis Brandt & Fils was the largest producer of timepieces in Switzerland, with an annual production of 100,000 pieces.
Louis Brandt passed away on 5th July, 1879 and shortly after, his two sons Louis Paul and Cesar relocated the company to Bienne. In 1891 Louis Brandt & Fils was renamed Louis Brandt & Frère. Patria Watch Co was founded by Louis Brandt et Frère in Bienne, Switzerland, on 10th October 1892.
Patria is a Latin word cognate with the Greek 'Patris', both of which derive from the word for "father", or "fatherland". Louis Brandt & Frere founded Patria Watch Co in 1892 intending to explore the newly emerging wristwatch market, which at the time was dominated by pocket watches, making Patria one of the earliest brands to produce purpose-built wristwatches.
An original advert for Patria watches from circa 1910
By the advent of the First World War the wristwatch had already been established as a valuable tool in combat, having been used extensively in the first and second Boer wars. When the First World War broke out in 1914, a tactic known as the creeping artillery barrage was frequently used. This involved artillery fire moving forward in stages just ahead of the advancing infantry and required perfect timing to avoid friendly fire. As a result of this, 1/4 of all soldiers were wearing wristwatches by 1916. In 1917, the War Office began issuing wristwatches to all soldiers. A significant number of the watches issued to the men fighting in the trenches were Patria Military Trench Watches.
By 1917 the Patria 13''' military wristwatch was widely used by soldiers due to its radium numerals that were visible in the dark, steel shrapnel guard and discrete 36mm case.
The original Patria 13''' Trench Watch was widely used in the First World War
A NEW BEGINNING
In January of 2017 Blade Render Ltd, the UK's premier luxury watch 3D rendering studio, given its years of expertise, invaluable connections and relevant resources, evolved into a luxury watch brand. The driving force behind the company are the initial two directors, Jolyon Lambert and Adam Stansfield, both of whom are Industrial Designers and Computer Graphics Artists with expertise in the field of luxury watch design and imagery.
Lambert & Stansfield undertook historical research by trawling through museum archives and trademark registries to discover the story of 'Patria Watch Co', a brand that stood out due to its age, its thoroughbred foundation in Bienne, its significant contribution to watchmaking history, its fascinating connection to Omega Watches and its patriotic sounding name.
Patria then embarked on the long process of industrial design for the first watch: A model that would re-ignite the legacy of the forgotten brand, carrying its striking DNA into the 21st century with style and engineering prowess. The new timepiece would be 42mm in case diameter with a column wheel powered Chronograph with Flyback complication. The new product was named the 'Brigadier' in keeping with the military heritage of the brand. This would be a product that a Brigadier General would be proud to wear in full military dress.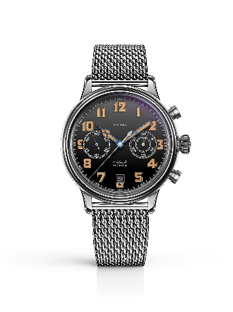 The 2019 collection of watches offered by Patria
The Patria PA-16 is Patria's first chronograph movement
Patria's unique Super-Luminova mix is applied to the dials of Patria watches by the hands of experts
The trademark 'PATRIA' was then filed in the USA (USA TM ID 77670 - Filing No. 88403565 - Class 14) and 'Patria Watch Co' was filed in Australia (AU TM ID 82046 - Filing No. 2045071 - Class 14).
PROMOTIONS & MARKETING
Co-founder Jolyon Lambert met with Quill & Pad and SJX editor-in-chiefs and presented the stunning prototypes to them in April 2019. The luxury watch journalists were wowed and on 29th May 2019, the Patria Brigadier Chrono was shown to the world via their channels. The article by Quill & Pad and SJX about Patria Watches can be found in the Documents section of the pitch.
Forbes France heard of Patria and used it to headline an article on its luxury section in August 2019. The Forbes article about Patria Watches can be found on the Documents section of the pitch.
The brand has also been featured on the huge Instagram page @watchanish to its 1.7m followers.