INTRODUCTION
Crowd for Angels is an FCA regulated crowdfunding platform that offers companies and investors the opportunity to raise and invest funds. Our crowdfunding opportunities include shares (equity), crowd bonds (debt) and tokenised securities
Since our launch in 2014, we have successfully funded dozens of share and bond pitches and we have recently moved into the crowdfunding of tokenised assets. Our investors get the opportunity to invest in shares in a tax-efficient manner through the use of SEIS/EIS tax relief, through crowd bonds that can be held in a tax free IF-ISA wrapper and through tokenised securities.
Our aim is to disrupt crowdfunding as it now exists. We use the emergence of the blockchain ecosystem and smart contracts to tokenised bonds, shares and other assets. These are more commonly known as Tokenised Securities. Our vision is to be the No.1 Crowdfunding platform for the funding, issuance and trading of Tokenised Securities.
Our recent achievements include being:
the 1st regulated crowdfunding platform to open a payment gateway for crypto holders,
the 1st regulated crowdfunding platform to create its own ERC-20 token (ANGEL), and
the 1st regulated crowdfunding platform to offer a token generating event and a tokenised security sale.
CROWDFUNDING FOR TOKENISED SECURITIES
Crowdfunding for tokenised securities or assets differs from a normal crowdfunding event in that it requires the following additional layers:
Blockchain protocols
Smart contracts
Issuance platforms
Exchanges
Reasons for Tokenised Securities
With correct technical knowledge and experience, the issuance of tokenised assets, such as a bond, is relatively easy and cost effective.
These tokens can be traded more easily on the secondary market compared to traditional private securities.
Additional liquidity creates a more efficient price for securities. This feature has the potential to reduce the significant cost premium attached to private securities.
Tokenised assets allow companies to benefit by providing access to more investors, higher cost-efficiency and lower liquidity constraints.
THE PROCESS FOR THE CROWDFUNDING OF TOKENISED SECURITIES
We have made substantial progress in developing the crowd funding process for the funding, issuance and trading of tokenised securities. Our process is more than 75% completed.
TOKEN ISSUANCE, REGISTRY & EXCHANGE
We have leveraged our platform's regulated status with its in-built KYC & AML processes and financial promotion compliance to offer tokenised securities. However, the usefulness of a tokenised security is only realised if it can be listed and traded. Many exchanges are available but they cannot trade tokenised securities as they are not regulated. For this reason, we are seeking to launch an exchange for the secondary trading of tokenised securities.
We are currently in discussions with a number of overseas token exchanges that are looking for a foothold in the UK regulated exchange space. Our advantage is that with our regulated status we are able to reduce the time to market for a new regulated exchange. These discussions are for a combination of investment and technology transfer. Technology transfer includes token creation, share cap registry and an exchange.
Our native ANGEL token may well play a key part of the exchange through its use as a utility token, to offset trading costs for investors.
TOKENISED SECURITIES
Market
The increase in regulatory concerns arising from Initial Coin Offerings (ICO) has resulted in a new type of fundraising on blockchain, the creation of tokenised securities. The general consensus is that the benefits of bringing token offerings that comply with securities regulations, taxation and compliance, will help make fundraising easier and more acceptable.
Security Token Offerings (STOs) witnessed a significant surge throughout early 2019. According to a recent report from blockchain intelligence firm Inwara, a total of 47 STOs took place in Q1 2019. That's a 135% increase compared to the 20 STOs seen in Q4 2018.
The top three jurisdictions for STOs are the United States with 11, the United Kingdom with 8, and Switzerland with 4.
Interestingly enough, despite leading the pack in the number of STOs conducted, only 2% of the total funds raised were from the United States:
REASONS FOR INVESTING IN US
OUR COMPETITIVE ADVANTAGES
1) Authorisation: We are authorised by the Financial Conduct Authority (FCA) to carry out crowdfunding activities for both debt and equity products in the UK. Exemption from the Prospectus Directive means that we can raise up to €8 million on our regulated platform.
We are approved by HMRC to be an Innovative Finance ISA manager.
We are now seeking to apply for a Multilateral Trading Facility (MTF) license for our proposed token exchange and have already begun discussions with stakeholders and informed the FCA of our intention.
2) Funding Capacity: We have over 31,000 registered investors on our platform. In addition, the proceeds from our company bond, launched in February 2018 to support third-party bonds on our platform and our proposed fund, gives us a head start when trying to fund pitches on the platform.
3) Experience: To date, we have completed funding worth several millions of pounds, with much of the growth taking place in the last 6 months via activities linked to the Innovative Finance ISA (IF-ISA) and launch of our tokenised securities.
4) Platform: From onboarding investors to delivery of the tokens, our highly secure and automated platform can expedite fundraising and token creation. of relationships for acceptance of both fiat and crypto assets (BTC, ETH, LTC, BCH, EOS, etc.).
5) Marketing: One of the top 5 crowdfunding platforms in the UK. Our unique reward-based ANGEL token has helped us to reduce the cost of our marketing. We have used ANGEL tokens to attract visitors and investors to the platform.

6) Financials: Our financials show continuous improvements. Results for the six months to December 2018 show a net loss of £66,858 before unrealised investment losses. Our reduced loss is a result of reductions in overheads, particularly in marketing, and at the same time an increase in revenue as a direct result of our entry into the funding of crypto assets.
Our business plan for the second half of our 2019/20 year forecasts assumes a regulated security token exchange will be in operation by the second half of 2019/20. Our revenues include fees of £4,500 for security token pitches, and a 6% success fee on the total amount raised. Applicants will need to pay an upfront fee of up to £10,000 to integrate their security tokens into the exchange and an annual listing fee of £4,500. Further fees will be generated from services such as trading, order book management, compliance reporting and any other such services.
We forecast a profit of £147,812 for 2019/20 and £599,485 for 2020/21.
7) Valuation: We are in a niche market that is evolving rapidly, with some of our potential competitors valuing themselves rather richly (see table below). Our offer to shareholders values us at £3.75 million which we believe compares very favourably with the £16 million valuation of our nearest competitor, Globacap. We are yet to identify an "all-in-one" competitor, especially in the UK and EU.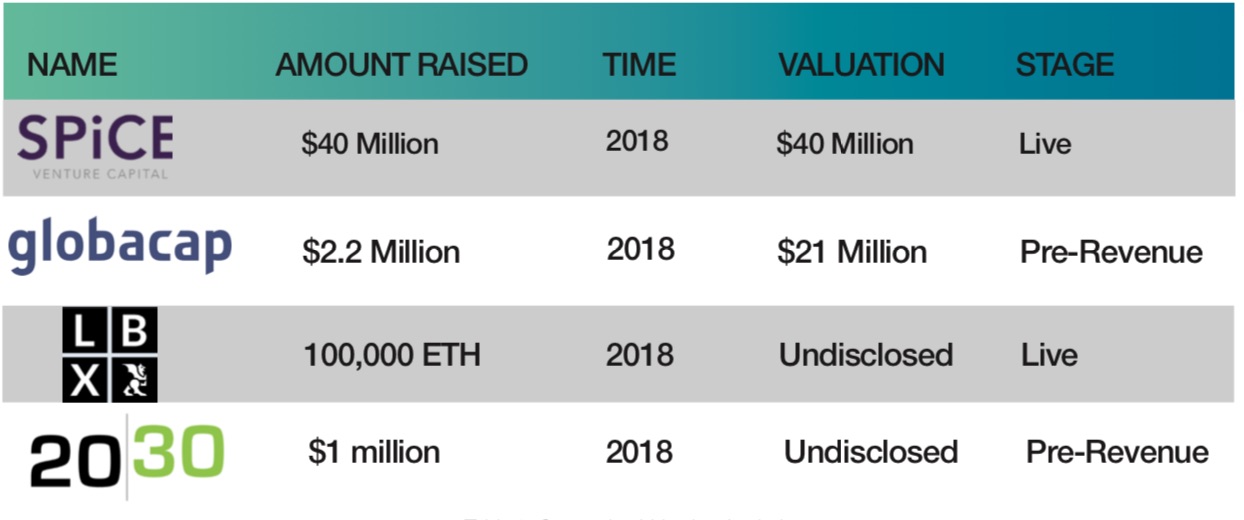 FUTURE GOALS
Tokenising Crowd for Angels Shares
We intend to tokenise our shares within a year through the creation of tokenised securities to represent legal ownership. This will provide investors with increased liquidity, as well as establish a standard for a tokenised security in the UK.
Creation of Fund for Tokenised Assets
As part of our future strategy, we intend to launch a tokenised fund which will invest in tokenised bond, share and other asset pitches on our platform. The fund's objective will be to invest in pitches seeking funds on the platform. This will allow investors in the fund to benefit from bonuses and discounts offered by token issuers in their early stages of fundraising. In this way, we help companies to raise funds and at the same time allow ourselves to earn performance fees on the success of our fund.