ABOUT US
Populous World is a UK company with registration number 10458726. The Company is the developer and owner of an invoice finance platform.
Populous World works with businesses that need external financial assistance to fund their growth or ease short-term cash flow related issues. We facilitate businesses globally, with our swift and innovative approach to business funding, allowing the invoice finance process to be less restrictive and easier for businesses to onboard.
Our invoice finance platform is well-positioned to break down the barriers of funding and allow more companies to participate in this market place - raising finance from outstanding invoices, but on a selective basis.
Armed with a team of highly experienced technology and finance experts. Populous World is well-positioned to disrupt the invoice finance industry.
Our clients undergo a due diligence process and in-house credit limit system for us to determine the risk profile of the client. Our clients will secure the debt with a fixed and floating charge on their company's assets, director's personal guarantee and credit insurance. We also utilise in-house monitoring system for clients that are close to the repayment dates for collection.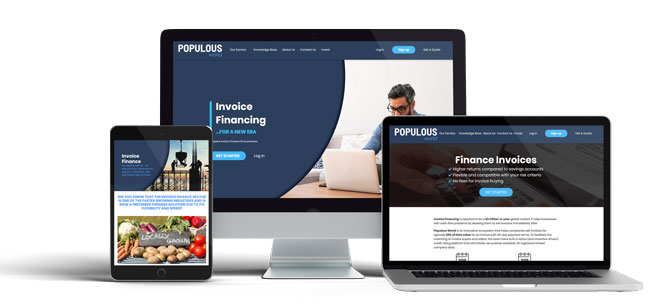 WHAT IS INVOICE FINANCE
Invoice Finance is a form of funding that instantly unlocks the cash tied up in outstanding sales invoices. Business owners allow invoice buyers to buy invoices at a discounted rate in order to unlock their cash quicker. Once invoices are paid by the invoice debtor, the invoice buyer receives the amount previously agreed upon.
Populous World takes a debenture over all invoices client(s) company assets along with directors personal guarantees and credit insurance.
Your business may face long payment cycles with your customers, or maybe your business is growing too fast and you need to collect cash quicker than customers will pay you to sustain. If this is something your business is experiencing, invoice financing could be the best funding solution for your business due to its flexibility and ability to unlock cash, fast.
SECURITY FOR THE BOND
The security for the crowdbond will be Populous tokens (PPT). These will be held by a third party custodian who will hold the Populous tokens to Crowd for Angels' order. The value of the initial PPT tokens will be twice the loan amount.
The PPT tokens are traded on multiple exchanges, including Binance, one of the world's largest crypto exchanges. The current average daily traded volume of Populous tokens is c.US$2 million. The price of the PPT tokens has ranged from a high of $0.664 to $0.306 in the last 30 days (24/10/2019).
The director controls 12,261,605.1 PPT having a current face value of $5,502,746.60 at the time of preparing the pitch (16/10/2019) and has agreed to pledge the PPT on behalf of the company for the Crowd Bond.
The agreement with the Company provides for a review of price and valuation of the PPT tokens held as collateral. The Agreement also provides for a monthly recalculation of collateral value with excessive collateral returned to borrower or borrower to add to collateral to bring LTV to 50%.
In addition, the Agreement also provides that If the PPT token price drops by 15% in any 24 hour period, we have the right to sell some of the collateral or obtain further PPT tokens.