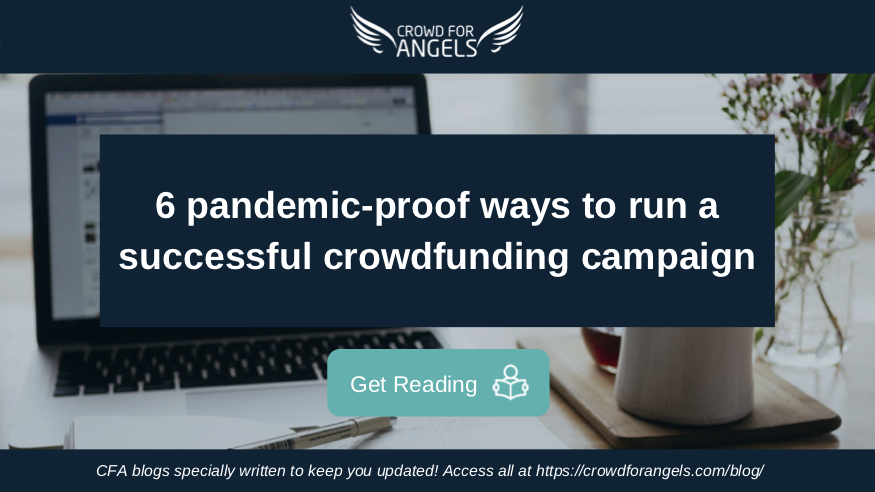 UK's lockdown 2.0 has got many entrepreneurs wondering if their crowdfunding campaign can succeed right now. Given this pandemic induced slump what's a founder to do? Especially the ones that require capital to execute their growth plans. Here's a list of 6 pandemic-proof ways to run a successful crowdfunding campaign and secure set investment targets.
#1 Set a smaller funding target with the aim to top-up later
The current economy can make it difficult for those final investor commitments to come in for high investment targets. Hence, it is advisable that you set an easy and achievable investment target to enable your business plans or maintain the cash flow and aim to renew your crowdfunding campaign post-pandemic.
#2 Garnering early support
Garnering early support is key to lending credibility to your campaign. Potential backers (those with no connection to you) generally don't want to be among the very first to back a campaign.
#3 Bootstrap from your network
Before taking your project live, try to get financial commitments from people in your network. Talk to family, friends, professional colleagues, and others to try to get commitments to back your project once it launches.
#4 Talk to fellow campaigners that might have already achieved crowdfunding success during this pandemic season
There are several campaigns that are experiencing success despite the ongoing pandemic. On the Crowd for Angels platform alone companies such as Teapayments Ltd and Beaconsoft secured their minimum funding targets. By researching such crowdfunding projects you can try to pick up on what works and what doesn't. This will allow you to better tailor your campaign for success.
#5 Focus on Social Media advertising
Social media ads are some of the most effective tools for generating leads for your campaign, and until recently, it took a lot of budget to produce results on platforms such as Facebook and Instagram. But in the wake of covid-19, competition for ads on social media has dipped as larger companies have reduced their marketing budgets, meaning that smaller businesses have unprecedented access to social media ad space. Coupled with the additional time people are spending on social media as they stay at home, it's a recipe for generating more leads on a reasonable budget.
#6 Be transparent
Lastly, be transparent and communicative with your community. If you experience any delays in finalising your product or delivering it to your backers, it's important to be open about the challenges. These are unprecedented times to say the least, and your backers will most likely be understanding as long as you keep them updated.
Crowd for Angels is an FCA authorised and regulated crowdfunding platform that funds companies through the issue of shares, crowd bonds and digitalised assets to investors. Begin your fundraising journey or start exploring top investment opportunities here.