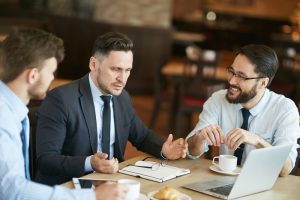 Taking the plunge as an investor is intimidating for everyone. It's not just all the jargon that gets thrown at you, or trying to figure out the arcane technical details of investing – it's the idea that you're competing against top fund managers, who have access to more information and more sophisticated analysis than you. It's tempting to pull back and not engage with investing at all – but in fact there's no need to be put off. It's perfectly possible to make a decent return on your investments, even if you're just starting out – so here are our tips for dipping your toes into the world of investing.
1. Don't Be Too Cautious
You might think that the worst thing you can do when you're first starting out as an investor is taking on too much risk – after all, you're investing with your savings, so it's reasonable not to want to be reckless when you invest for the first time. But in fact, one of the most common mistakes first-time investors make is being overly cautious. Remember that when you're investing, you're interested in the potential returns on your investment. In that sense, being too cautious carries its own risks – it means you're missing out on those returns that you could have made. So while you should always be comfortable with the level of risk you take on, and should never invest more than you can afford to lose, try not to be overly cautious.
2. Do Your Research
While it's true that you're competing against investment funds that have more information and experience than you, that doesn't mean you're bound to lose out. First-time investors fall into the trap of not trying to do serious research at all – if you can't compete with the top fund managers, why even try? So many make the mistake of investing on the basis of the kind of 'hot tips' and investor news that professionals already have access to – which can lead to serious blunders. Instead, try to learn the lay of the market and research each of your investment opportunities thoroughly yourself – giving yourself the best possible chance of getting the best return.
3. Pay Attention to Tax
Remember that you have the option of investing via a stocks and shares ISA, a "tax free wrapper" which currently has an annual allowance of £15,240. Any gains made within your ISA are tax free – although tax law can change and is subject to individual circumstances.
4. Use Online Platforms
One of the costs that first-time investors often underestimate is the price of simply buying shares in a company. The cost of buying shares through a broker or fund manager is not insignificant, and can get surprisingly steep depending on who you are using. Fortunately, Fintech and online platforms now make it easier to buy shares in companies – for example, online "supermarkets" can be used to buy shares cheaply. Or you could use an online crowdfunding platform like Crowd for Angels, which gives you the chance to invest in exciting small businesses that have the potential for significant returns, without going through the middle man of a fund manager.
So while it's by no means effortless to start investing, you shouldn't be put off by the potential difficulties. Remember that, with interest rates so low and inflation creeping up, simply putting your money in a savings account alone could actually see the real value of your money fall.. By doing your research and taking your time, there's plenty of opportunities to make a good return, even if you're just starting out.