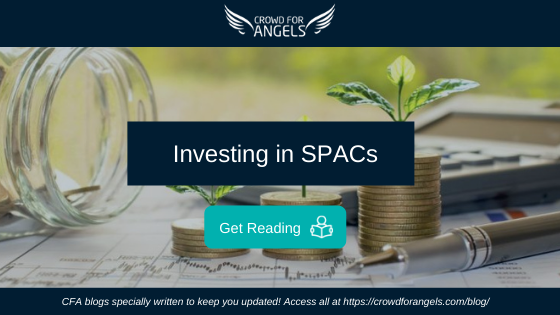 Along with tech stocks, another thing that's been hot on Wall Street over the past couple of years is the listing of special purpose acquisition vehicles, otherwise known as SPACs. According to analysts at Renaissance Capital, there were around 200 SPACs that went public in 2020 raising a total of $64 billion between them. But what exactly is a SPAC and how can ordinary investors get involved?
What is a SPAC?
A SPAC is a company which is set up in order to merge with or acquire an existing business. It has no commercial operations at first but with capital raised it goes out and looks for a deal to complete. Sometimes they are also known as "cash shells" or "blank check" companies, referring to the fact that the company has no business (only cash) and its future operations are as yet unknown.
SPACs are typically formed by a management team that have expertise in a particular business sector, along with finance professionals. While they may have several target companies in mind, at the time of the IPO investors will be unaware of any specific company that will be acquired. Investors will have a general idea however, with a specific sector like renewable technology, or a wider area like emerging markets, being looked at. In the US, SPACs generally have two years to complete a deal, otherwise they will be liquidated and the funds returned to investors.
While the UK hasn't seen as much SPAC business as the US, last year the FCA revised its listing rules in order to attract more listings to London. Mainly, these rules set out how shares in a SPAC can continue trading on the market once a deal is announced, subject to certain conditions, instead of being suspended. The first SPAC to list in London, in November 2021, was Hambro Perks Acquisition Company. The firm raised £140 million and is looking to complete a combination with a technology-enabled business.
Benefits to companies and investors
Being acquired by a SPAC offers established companies an alternative route to going public compared to a traditional IPO. As well as having increased access to capital, the company could benefit from the expertise of the SPAC's management team. Also, going public using a SPAC can be a lot faster than an IPO due to the SPAC already being listed and cheaper too.
One of the biggest SPAC deals was in June 2020 when US gambling giant DraftKings merged with Diamond Eagle Acquisition. This entity had previously raised $350 million and had the rather vague aim of "…effecting a merger, capital stock exchange, asset acquisition, stock purchase, reorganization or similar business combination with one or more businesses."
For investors, the original subscribers to the pre-IPO fund raise usually gets the shares at a discount from the IPO price. There is also the hope of additional upside opportunities once a target company has been identified and goes on to perform well.
Digital Cloud Holdings I
One SPAC currently looking to raise pre-IPO funds on Crowd for Angels is Digital Cloud Holdings I. The business will be targeting providers of software for virtual events and conferences and is looking to join the Standard List of the London Stock Exchange at the end of January this year. Virtual events have a large market, estimated by Grand View Research to be worth $78 billion in 2019 and forecast to grow to $774 billion by 2030.
To see the full pitch visit https://crowdforangels.com/company/digital-cloud-holdings-i-253 – Capital at risk. Investing in companies involves risks, including illiquidity, lack of dividends, loss of investment and dilution, and it should be done only as part of a diversified portfolio.