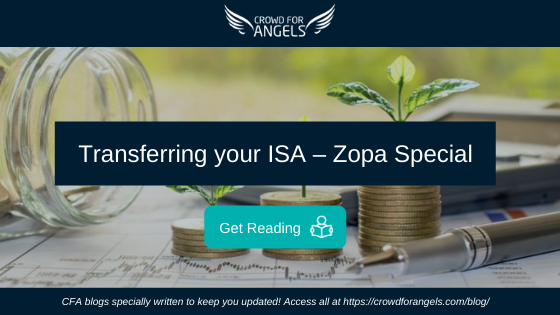 As many of you will be aware, Zopa announced the closure of their P2P arm in early December 2021, with thousands of retail investors expected to have their funds returned to them by the 31st January 2022. This has led to a requirement for many investors to find a new ISA Manager.
Why is transferring important?
If an investor chooses to withdraw their balance from Zopa to their bank account and then transfer it from their bank to a new ISA Manager, the funds will be classed as part of this years £20,000 ISA allowance and potentially create an issue.
The tax rules around ISAs mean that investors must transfer funds/assets from one ISA account to another in the right way to keep their tax-free savings intact.
Who is Crowd for Angels
Crowd for Angels UK Limited is an established crowdfunding platform based in the City of London. We have been an IF-ISA manager since 2017 and today welcome thousands of investors.
The company is authorised and regulated by the Financial Conduct Authority to provide funding to companies in the form of debt and equity. We were incorporated in 1995 and have a long track record in raising funds for companies.
Can Crowd for Angels accept my Zopa ISA?
The simple answer is yes.
As a fellow IF-ISA manager, Crowd for Angels would be able to accept an ISA transfer from Zopa accordingly. Any transfer would be expected to be completed in 5-7 working days.
You can read more about transferring an ISA here: https://crowdforangels.com/transfer-your-isa
Are there other providers
A list of all ISA managers can be found here: https://www.gov.uk/guidance/list-of-approved-individual-savings-account-isa-managers
I still have questions, can I talk to someone
Absolutely, you can reach out to one of the knowledgeable and friendly Crowd for Angels team by calling 0207 437 2413, emailing [email protected] or by LiveChat by clicking on the two speech bubbles on the left hand side. Our normal office hours are Monday to Friday 8am to 6pm
---
Open a free Crowd for Angels Innovative Finance ISA here: