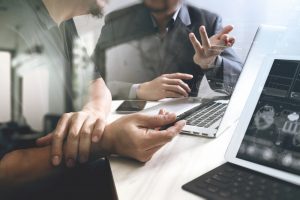 One of the things that put investors off crowdfunding sites is the sense that the companies they're being asked to invest in aren't all there yet – are you really investing in an up and running company, or is it only someone's idea that's still just on paper? This is why we need to be clear about the difference between starting up and being a start-up – if the directors haven't properly prepared themselves or their business plan, or they don't already have a functioning company which is turning a profit, they're not a start-up yet. Start-ups are companies which are already in business and poised to expand quickly, especially with the help of equity crowdfunding or debt crowdfunding – let's have a closer look at how investors can be more confident about what they're investing in and be sure it's one of the smartest ways to make money.
Have they prepared a serious business plan?
Do they know what their target market is? Do they know what their potential for growth is? Do they know where they want to be in 12 months? Most importantly, can they answer these questions with detailed figures? This is the first thing that distinguishes a start-up from an idea written on the back of an envelope – unless pitchers have thought seriously about their business plan, they aren't a viable option for investment yet. And they don't just have to have answers to these questions – they need to be realistic if they're seeking equity crowdfunding. It's often only when an entrepreneur actually starts running a business that they lose the overambitious predictions they've been giving themselves. But it's no good having a hard valuation figure if it's wildly overinflated – a business plan needs to show realistic expectations or else you can't believe they're taking their business seriously, which means they certainly can't expect to receive any equity crowdfunding.
Are they already operating as a business?
If they're registered at Companies House and already turning a profit, that's a good sign – but if not, they're just starting up. That doesn't mean they haven't thought seriously about where they're going and what they have to do, but if they haven't gotten to the stage of actually operating as a business then you're not investing in a company – you're investing in someone with an idea. Whether or not that idea is brilliant, you have to carefully distinguish between functioning start-ups and nascent pre-start-ups – at Crowd for Angels we check that all companies pitching on our platform are registered at Companies House and have filed up to date accounts. We do this so that you know that everything you invest through our platform is an actually operating company, not just someone's great idea.
Don't get put off crowdfunding sites just because certain websites don't ensure all the proper checks and safeguards are in place. At Crowd for Angels, we follow a stringent three-step checking procedure which involves fact-checking every part of each pitch, down to the smallest detail. We also meet 99% of our company directors in person, ensure legitimacy at every stage, and we are completely FCA regulated.
At Crowd for Angels we have high standards for what gets on our platform, and it means more than coming up with a good idea. Crowdfunding investment ought to be in real companies – which is why we make sure to distinguish between the genuine start-ups and those who are just starting up.