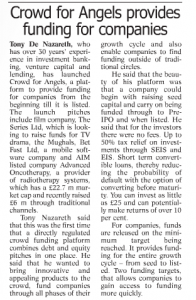 Tony De Nazareth, who has over 30 years' experience in investment banking, venture capital and lending, has launched Crowd for Angels, a platform to provide funding for companies from the beginning till it is listed. The launch pitches include film company, The Series Ltd, which is looking to raise funds for TV drama, the Mughals, Bet Fast Ltd, a mobile software company and AIM listed company Advanced Oncotherapy, a provider of radiotherapy systems, which has a £22.7 m market cap and recently raised £6 m through traditional channels.
Tony Nazareth said that this was the first time that a directly regulated crowdfunding platform combines debt and equity pitches in one place. He said that he wanted to bring innovative and appealing products to the crowd, fund companies through all phases of their growth cycle and also enable companies to find funding outside of traditional circles.
He said that the beauty of his platform was that a company could begin with raising seed capital and carry on being funded through to Pre- IPO and when listed. He said that for the investors there were no fees. Up to 50% tax relief on investments through SEIS and EIS. Short term convertible loans, thereby reducing the probability of default with the option of converting before maturity. You can invest as little as £25 and can potentially make returns of over 10 percent.
For companies, funds are released on the minimum target being reached. It provides funding for the entire growth cycle – from seed to listed. Two funding targets, that allows companies to gain access to funding more quickly.
First published in Asian Voice 7th June 2014. To view the full article please visit: http://issuu.com/abpl/docs/av_7thjune2014