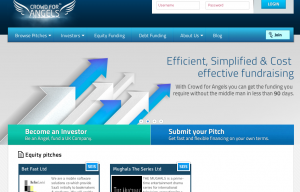 Crowd for Angels is the first platform to provide funding for companies through their growth cycle, from seed to listed

First directly regulated debt and equity platform

Launch pitches include AIM listed Advanced Oncotherapy Plc

Enables listed companies to generate funding outside of traditional circles

Gives investors access to products normally reserved for institutional clients.
Crowd for Angels, the first crowdfunding platform to provide funding for companies from seed all the way through to listed has launched today. The platform, which is also the first directly regulated debt and equity platform, already has three live pitches.
It is launched by Tony De Nazareth who has over 30 years' experience of investment banking, venture capital and lending. He has combined his experience and knowledge of finance with his interest in social media and technology to create an innovative source of funding that competes with, and has the potential to replace the traditional sources of funding for companies.
The launch pitches include film company Mughals, The Series Ltd, which is looking to raise funds for a new high end prime time TV drama, the Mughals – supported by actress Mamta Kaash; Bet Fast Ltd, a mobile software company which provides software to bookmakers & stadiums; and AIM listed company Advanced Oncotherapy, a provider of radiotherapy systems, which has a £22.7m market cap and recently raised £6m through traditional channels.
Director and founder, Tony De Nazareth comments: "This is the first time that a directly regulated crowdfunding platform combines debt and equity pitches in one place. I want to bring innovative and appealing products to the crowd, fund companies through all phases of their growth cycle and also enable companies to find funding outside of traditional circles. Crowd for Angels presents a unique and appealing platform to the crowdfunding sector offering niche products that other platforms do not offer. We are challenging the status quo by developing new ways of doing things such as having a minimum and a maximum fund raising target for pitches which does away with the standard 'all or nothing' approach. The fact that we have a listed company as one of our opening pitches speaks volumes about the need for a new crowdfunding model such as ours. The beauty of our platform is that a company can begin with raising seed capital and carry on being funded through to Pre-IPO and when listed. Companies can use our platform to get fast and flexible financing on their terms and investors have an opportunity to invest in attractive products that would not normally be available to them."
The benefits of Crowd for Angels include:
For Investors
Up to 50% tax relief on investments through SEIS and EIS

Short term convertible loans, thereby reducing the probability of default with the option of converting before maturity.

Invest from as little as £25

Investors can potentially make returns of over 10 per cent

Crowd for Angels platform is regulated under the April's FCA guidance on the sector
For companies
A Minimum and Maximum target – funds are released on the minimum target being reached

It provides funding for the entire growth cycle – from seed to listed

Two funding targets, that allows companies to gain access to funding more quickly

Nominee structure so companies only deals with one investor

Reduces the chance of a drop in share price on conversion, as multiple investors with different risk profiles and time horizons are unlikely to convert and sell at the same time.