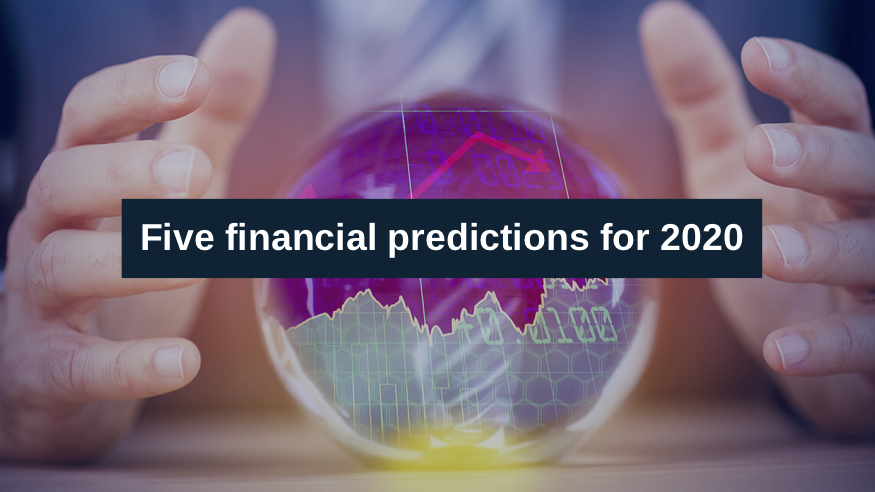 As we enter a new year, and indeed a new decade, Crowd for Angels presents five predictions for what might happen in the financial markets in the coming 12 months.
One of the five financial predictions for 2020: Bitcoin bounce?
Once again it was a volatile year for Bitcoin in 2019, with the king of cryptos rising fourfold between February and June to a high of around $14,000. But since then it has more than halved in value to end the year, as we write, at around $7,250.
Trying to forecast at what price Bitcoin will end 2020 is once again a huge and probably fruitless challenge. Notable, however, is that entrepreneur John McAfee will have to find a TV station willing to broadcast him consuming his own penis should, as he predicted two years ago, Bitcoin not reach $1 million by the end of the year.
Another noteworthy event in the crypto markets should come around May/June when the block rewards for successfully mining Bitcoin are expected to halve, from 12.5 to 6.25. In theory, these halvings should lead to a rise in the Bitcoin price as the supply of new BTC falls and the currency heads closer to it 21 million issuance limit. This isn't guaranteed as halvings are widely anticipated by the market, so arguably the effects are already priced in. It's worth noting however that after the last halving in July 2016, Bitcoin took around six months to go on an extended bull run. On that basis, Bitcoin investors could do well to buy in the last few months of the new year
Two of the five financial predictions for 2020: Rise in environmental investing
One trend send to continue on from 2019 and into 2020 is a rise in so called ESG (environmental, social and governance) investing, also known as "sustainable investing." We particularly like the E side of the market, which remains high on the political and social agenda.
Just a few weeks before she left office, former PM Theresa May laid out plans for the UK government to set a net zero greenhouse gas emissions target in law. This has since been re-committed to in the Conservative party manifesto. Amending the Climate Change Act 2008, the new proposal is for the country to eradicate its net contribution to climate change by 2050, building on the previous target to reduce emissions by at least 80% by 2050 relative to 1990 levels. While some, mainly environmental interest groups, have said that the target isn't ambitious enough, this makes the UK the first major world economy to set such a goal.
The "low carbon" sector is already big business in the UK, with an estimated 400,000 people employed in the sector and its supply chains. Low carbon technology and clean energy are estimated to contribute a chunky £44.5 billion to the economy every year. And recent months and years have seen significant progress towards its further "decarbonisation". In 2018 for example, the country secured more than half its electricity from low-carbon sources with its carbon intensity having fallen by 53.1% in just 5 years. In May this year, a new record was set for the number of days without burning any coal since the Edison Electric Light Company opened the world's first public coal power station in London in 1882. The record was set at just over two weeks, and with coal-fired power generation expected to be phased out by 2025, many more records look set to be broken.
As with any industry which is seeing a positive change in regulations, this provides opportunities not only for jobs but also for investors, especially in the areas of alternative electricity, alternative fuels, renewable energy equipment, waste & disposal services, as well as for the handful of listed renewables focussed investment funds. Historically, so called green stocks haven't been the best performing for investors, with many companies struggling with technology issues, difficulties in commercialisation and the ongoing need for cash. While these problems remain, it does seem that we are finally reaching a turning point where some serious money could be made. Watch out for more environmental focussed firms looking to raise money via crowdfunding throughout the year.
Three of the five financial predictions for 2020: Increase in Interest rates?
No change was seen in the UK base rate in 2019, with the 0.75% level having been held flat by the Bank of England since last August. Since then, all nine members of the Monetary Policy Committee have consistently voted to hold rates flat, except at the last two meetings where two members voted for a cut to 0.5%. With the worst of the Brexit uncertainty now out of the way we expect a 9 – 0 vote to be returned at the next meeting at the end of January. Incoming Governor Andrew Bailey, formerly of the FCA, is unlikely to want to make any drastic decisions, especially in the early months of his reign.
If anything, we see the rate being increased rather than decreased during 2020, but by no more than 25 to 50 basis points, depending on the economic data. At present there is no pressure on the inflation side of things, with the CPI measure being only 1.5% for November 2019, comfortably below the government's 2% target. Wage growth remains a possible threat but slipped from a recent peak of 3.9% between May and July to 3.2% between August and October.
Whether it's no rise, one rise or two rises in 2020, what is clear is that base rates will remain close to rock bottom levels for some time to come. This of course affects savers and investors who continue to be offered derisory interest rates on saving products by the high street banks. According to finance website Moneyfacts, the best easy access savings account currently offers only a 1.41% annual return, with the best one-year fixed Cash ISA only offering 1.65%. As a result, we expect further inflows into the increasingly popular Innovative Finance ISA (IF-ISA) over the course of the year.
Four of the five financial predictions for 2020: Rise in UK Stocks
UK stock investors had a pretty good time in 2019 as the markets recovered from the slump seen at the end of 2018. The FTSE 100 put on a decent showing by rising 13.6%, with the UK focussed FTSE 250 dismissing the Brexit blues by rising 26%. Small cap investors had a volatile time but still ended the year up, with the AIM All-Share index rising by 11.1% and the FTSE Small Cap up by 15%.
According to Bloomberg, the FTSE 100 currently trades on a forward price to earnings multiple of around 18.5 times. This is slightly ahead of its historic long-term average of around 16 times and also slightly ahead of the 10 year cyclical adjusted PE measure (CAPE). So in terms of valuation the index neither looks undervalued or, unlike some other assets, in bubble territory. However, income investors should note that the FTSE 100's dividend yield is currently just over 4%, higher than its long term average and well ahead of all cash savings accounts – see above.
As the UK finally exits the EU and a major uncertainty is removed from the market then the country should enjoy a Boris business boost. Of course, assuming no major economic disasters, then the blue-chip FTSE 100 should continue to grow in line with earnings growth. However, investors looking for more lucrative opportunities might want to take a look at some of the indexes' more lowly valued constituents. Aviva (AV.) for example currently trades on a PE ratio of just 7.3 times and offers a yield of 7.1%. BT Group (BT.A) meanwhile trades on a PE of just 7.5 times and is yielding 7.8%
And Finally… Five of the five financial predictions for 2020
Of the many expected major global events in 2020, two of the most noteworthy are the Toyko Olympics and the US Presidential election.
Interestingly, finance writer and "seasonality analyst" Stephen Eckett finds that stock markets typically under-perform in the months running up to the games as the media typically reports on potential missed deadlines and cost overruns, creating a negative mood. Conversely, while the games are being held, stock markets of host counties have risen by an average of 3% since 1984, arguably as a "feel good factor" encourages investment. Meanwhile, UK investors will be interested to know that since 1948 the FTSE All-Share has risen 15 times out of 18 in US election years, with the market typically rising in the weeks leading up to the November vote.
Lastly, as Richard Branson has been predicting for longer than we can remember, watch out for Virgin Galactic finally launching its commercial space flights in 2020. Or maybe not. For those who want a possibly less speculative punt, Paddy Power have recently been offering odds of just 1/10 that extra-terrestrial life will be proven next year or later.
Looking to raise funds in 2020? Crowd For Angels, The Regulated Crowdfunding Platform can help you on your fundraising journey through the issue of Shares, Crowd Bonds and Digitalised Assets. Begin your application here: https://crowdforangels.com/join