Alternative investments is an interesting area of the market which is all about putting money into non-traditional assets – by non-traditional we mean anything that isn't a share or a bond such as investing in whisky. This covers a range of things including art, commodities, wine, stamps, coins and even classic cars. Many investors consider investing in alternatives in order to diversify their portfolios as alternatives tend to have a low correlation to movements in the more popular stocks and bonds. They can also provide the opportunity for high returns as well as income.
Growing Market of Whisky
One area of the alternative investment market which has been growing in recent years is whisky. We're not talking about an eight year bottle of Bells here but old and rare single malts. This is a big area of the market, as buyers look to capitalise on collectors' (and drinkers') demand for rare bottles and casks. Whiskies have performed very well over the past decade, with a bottle of Macallan 1926, hand painted by Irish artist Michael Dillon, sold for a record £1.2 million in November last year. Asian investors in particular are getting increasingly involved in the market. With sales of Scotch whisky to India, China and Singapore rising by 44%, 35% and 24% respectively in the first half of 2018 according to the Scotch Whisky Association.

Whisky Apex 100
The chart below is from specialist whisky tracking website rarewhisky101.com . Its rare Whisky Apex 100 Index is updated monthly to show changes in the value of a collection of one thousand of the most sought after bottles of single malt Scotch and provides a broad picture of how the value of a basket of collectable bottles of Scotch are performing as an investment. The latest index valuation, as at 24th June this year, shows that the index has reached a level of 836.55, up from the base level of 100 which was set over ten years ago on 29th December 2008. That's a gain of 736.55% over ten and a half years, or a compound annual growth rate of 22.4% – something Warren Buffet would be proud of!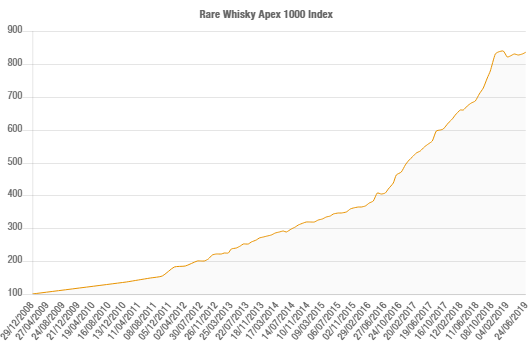 What's also interesting is that the index outperformed a number of other major asset classes over that period. Investors in the FTSE 100 for example would have made a gain of 75% over the same period, with the FTSE 250 up by 209%. investing in whisky also outperformed oil, which rose by 57%, and gold, which grew in value by 58%.
Introducing Oak Group One
One company looking to take advantage of the opportunities in rare whisky is Oak Group One (The Oak) an investment company focusing exclusively on investing in rare bottles and barrels. The Oak is looking to raise up to £1 million on Crowd for Angels through the issue of 10 million tokenised shares and is aiming to provide an annual return of over 20% by benefiting from rising prices of old and rare whiskies.
The Oak model will be investing in whisky and envisages that 80% of the inventory will be retained as a long term investment while around 20% will be subject to active trading. Profits on trading activity will be used to make dividend payments possible. These dividends are expected to be paid one to four times a year, based on the performance and cash flow proceeds from the liquidation of short-term inventory. Interestingly, investors do not pay any management or storage fees. For more information of The Oak pitch CLICK HERE
Looking for more investment opportunities? Find our latest open investments here: https://crowdforangels.com/pitches/open-investments