Crowd for Angels recently received almost 1,400 responses to its latest survey on investment attitudes towards the crowdfunding and crypto/blockchain markets. The data shows some interesting trends which may well guide towards what will happen over the coming 12 months.
Overall, investor appetite for new investments seems to remain high, with 85% of survey respondents saying that they are considering investing in a company within the next 12 months. Attracted to opportunities in the market, over the past year 60.6% of investors have increased the level of their investing, with only 16.7% having reduced their outlay.
Has your level of investing increased or decreased in the last 12 months?

Unsurprising for crowdfunding investors, 74.3% said that one of the main reasons they invest is due to the potential for high returns. Just under a third of people invest as they look to gain access to projects in the early days, with a quarter investing in order to support new companies. With stock markets highly valued and interest rates on offer at the high street banks remaining near all time lows, 22% of crowdfunding investors are looking for pension growth.
When looking for potential investments research is key, with only 14.5% of those surveyed saying they relied solely on third-parties. Almost a third make a judgement based on their own skills, with 53.4% using a combination of both methods.
Do you rely on third-party research or conduct your own?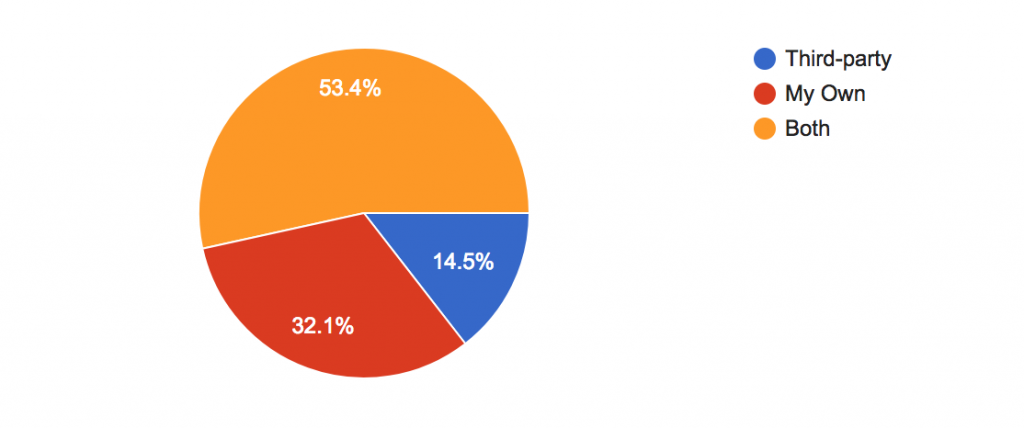 Once a company has successfully raised funds 51.6% of investors feel that the delivery of initial targets is important to them, with one investors commenting, "the difficult work begins once the fund are raised". Also important, 56.9% of those surveyed were hoping for transparency from the management team and 42.8% are looking for good communication.
Moving to the crypto sector and the survey showed just how ingrained within the investment industry cryptocurrencies are becoming, with 58.4% of investors saying they would prefer to pay in crypto when making an investment compared to just 18.9% who would to prefer to pay in fiat. Banking & Finance is the sector best suited to the blockchain according to 33.5% of our respondents, with the Internet of Things a close second with 24.8% of votes.
What sector do you believe is best suited by the Blockchain?