Crowd for Angels recently received almost 1,400 responses to its latest survey on investment attitudes towards the crowdfunding and crypto/blockchain markets. You can read an analysis of the main findings HERE
Delving deeper into the data it became apparent that there were some interesting differences between two key age groups, those aged 18 to 30 (the so called Millennial generation), and those aged between 51 to 60 (more experienced investors who might be thinking more about their retirement).
According to a recent article by Bitcoin Magazine, "…millennials are indisputably crucial to the survival of blockchains.", with the power of the technology catering to their tastes and beliefs perhaps more than any other audience. Yet, with Millennials still in the early days of their capital accumulation, it is to the older generations blockchain companies must often look in order to fund their disruptive ideas.
This last point was highlighted in the Crowd for Angels survey, with 90.5% of 51 to 60 year olds considering investing in a company in the next 12 months. This figure drops to 83.2% amongst the 18 to 30 demographic, perhaps as their access to investment capital is squeezed by rising rental costs, stagnant wage growth and modest rates of inflation.
Millennials' increased willingness to accept new technologies was highlighted in the question, When investing would you prefer to pay in cryptocurrency or fiat? 63.8% of the younger generation preferred to pay in cryptocurrencies compared to just 45.9% of 51 to 60 year olds. Of the older generation, 27% preferred to pay in traditional fiat currency, with 18.7% of 18 to 30 year olds having the same view.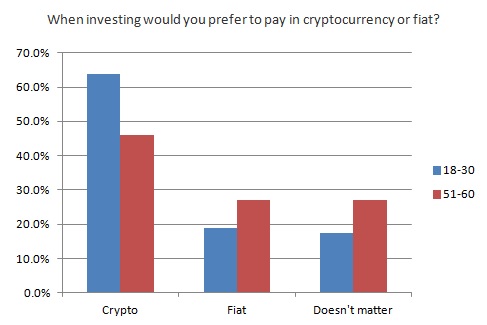 Younger investors seemed to trust their own judgement more when researching new investment ideas, with 35.9% relying on their own research compared to 29.7% of the older generation. However, both age groups were keen to use their own research along with that of third parties, with 47.7% and 56.8% respectively taking this multi-level approach.
When it comes to sectors best suited to blockchain technology both age groups liked banking and finance and the Internet of Things. Interestingly, 13.5% of 51 to 60 year olds thought that blockchain had potential in the healthcare sector, compared to 7.1% of 18 to 30 year olds, perhaps as the matter comes closer to mind in later years.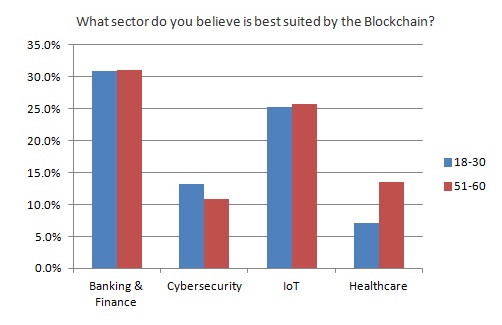 Finally, despite the age differences, both groups were looking for pension growth when investing (21.4% and 21.6%) and both were unsurprisingly looking towards crowdfunding and the blockchain to deliver potential high returns (72.4% vs 71.6%). One noticeable difference however was that 36.7% of Millennials were interested in gaining access to projects compared to 25.7% of 51 to 60 year olds.