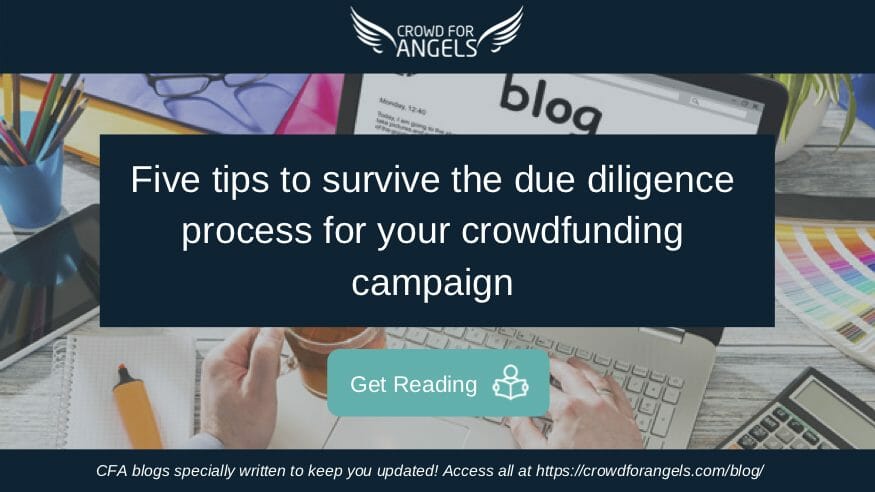 Those unfamiliar with the process may think that companies simply post their pitch on a crowdfunding platform and then go on to raise investment. But anyone who has had any experience in the industry will know it's not that easy. Before a company can get on a platform they go through a rigorous vetting process. Many companies tend to fail this process, causing delays or complete rejection of their campaign by the platform. Below are five tips on how your business can pass the due diligence process and give it the best chance of getting past this crucial vetting stage and speed up what can sometimes be a glacial process.
Know your business: Before any business goes live on a crowdfunding platform, including ours, it expects significant details about your company's growth potential, industry, the problem you are aiming to solve, product or service you are offering, competition, audience, finances, team, the risks involved, and the exit strategy, among others. Having these details ready can make your due diligence process much smoother.
Avoid vague statements or exaggerations, instead opt for clear, verifiable facts: A pitch is a financial promotional, meaning any statements made on the pitch that are deemed factual require evidence. Evidence cannot include easily editable sources such as a company's website or personal social networks such as LinkedIn. Any credible crowdfunding platform will perform checks on all the information provided and ask for evidence where required.
Keep your numbers in order: In line with the previous point – it might sound impressive that you made 20,000 sales last month but can you demonstrate it? If you're making such claims, you'll have to offer the platform a complete list of your sales.
Flaunt your industry and competitor knowledge: It is always important to show potential investors that you are well aware and researched. Inform them on how big your market is, including the current and projected trends. Also make sure to identify and name your competitors and show how your product or service is unique.
Beware before filming your pitch video: Many companies proactively prepare their pitch video before the due diligence process. While there is no harm in doing so it is advisable that you only do so if you're confident that you can evidence every claim – including your team's career history. In case you are unable to do so the platform may need you to edit the video or even ask for it to be redone.
How does Crowd for Angels conduct due diligence?
As a company that is authorised and regulated by the Financial Conduct Authority (FCA), we have to comply with strict rules on how we conduct our business. As an organisation we also take our ethical conduct seriously, going beyond the written regulations to ensure that companies pitching on our platform are offering a valid investment proposition to our members.
We will only place a pitch on our platform if we believe that the company is trustworthy, reliable, has true potential and we would consider investing in it ourselves. We perform extensive due diligence and only 8% of companies that have applied to pitch for funds on our platform have made it through our rigorous vetting process.
Our administration and finance team helps the business build the pitch for investors. We ask applicants a detailed set of questions about their business such as the company's growth potential, its team, products, competition, audience, finances, the risks involved, and the exit strategy, among others. We then perform due diligence checks on all the information provided. Depending on this we usually provide guidance to companies on their valuation and funding targets if necessary.
Download our due diligence process guide
We understand that our investors have put their trust in Crowd for Angels and we take this responsibility seriously. As such, we only offer financial products which meet our strict quality criteria. To read more about our due diligence process check out our "understanding our due diligence process guide" here.
Crowd for Angels is an FCA authorised and regulated crowdfunding platform that funds companies through the issue of shares, crowd bonds and digitalised assets to investors. Begin your fundraising journey or start exploring top investment opportunities here.