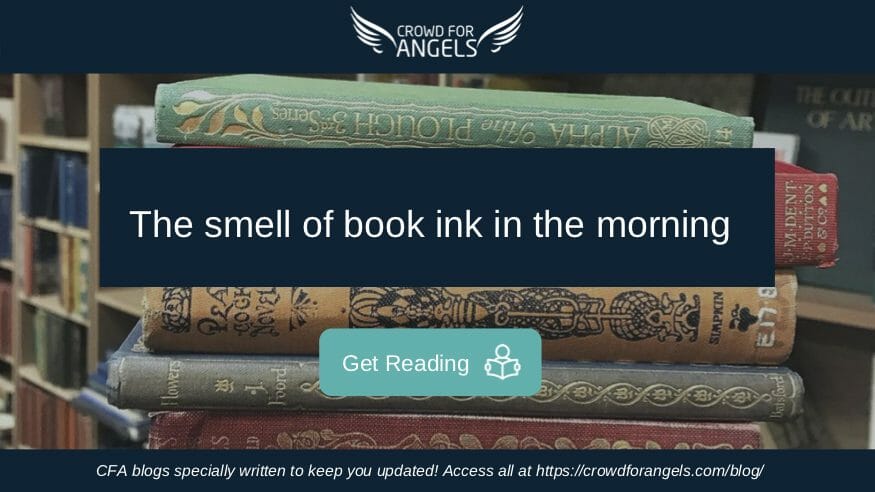 Books, printed on paper with stiff or floppy covers, have been around for a tiny proportion of humankind's sovereignty of the planet, a mere 500 years. The world wide web has been engulfing us with information for only a positively microscopic 30 years! 
The British Library (BL) is the largest in the world; they have 14 million books and another 160 million items that are not quite books – manuscripts, scrolls and so on. There is a law that says publishers must send them a copy of every book they publish in the UK. This means the BL receives 8,000 books every day.
Bookbarn International, a company currently live on the Crowd for Angels platform and its subsidiary Cambridge Rare Books are based in the West Country. They are what are known in the industry as "circular businesses", those that revolve around their catalogue of over one million books. They receive and catalogue an average of 5,000 books a week. In the last ten years they have between them sold around 2 million books worth at least £14 million – many of these on behalf of charities we all know and love.
Bookbarn is a high-tech business that deals in the oldest of technologies. The company's leading-edge software manages the cataloguing, storage, marketing and shipping of the orders it generates through its two websites, its 15+ marketplace partners and its two bookshops. Offering a single copy of a book to audiences in all seven continents means that when sold its details must be deleted from all the other sites, and that must happen within 20 minutes!
Books are an extraordinary piece of technology: a relatively portable, light-weight object whose smell evokes many moments of happy introspection, that can be thrown across a room and yet are capable of giving their readers hours, days and weeks of enlightenment, stimulation, erudition, amusement, alleviating boredom and so much more. As Groucho Marx said, "Outside of a dog, a book is a man's best friend. Inside of a dog, it's too dark to read."
Bookbarn's cutting-edge technology enables billions, yes billions, of people to have access to their catalogue of wild books. As Virginia Woolf wrote, "Second-hand books are wild books, homeless books; they have come together in vast flocks of variegated feathers and have a charm which the domesticated volumes of the library lack."
Bookbarn International is seeking an initial £250,000 in equity investment* to foster this extraordinary relationship of old and new technologies. As Carl Sagan said, "One glance at a book and you hear the voice of another person, perhaps someone dead for a thousand years. To read is to voyage through time."
There was a time a few years ago, when the very existence of the printed book, and therefore that unforgettable smell of book ink in the morning, was threatened by the e-book and its cousins. But that fad did not last long. We were all squinting at our device screens to read the books we love. But printed books are more than holding their own as the advance of ebooks has slowed.
*Capital at risk.
Want to invest in Bookbarn? Please check their full pitch here: https://bcn.to/t8j If you have any questions about the pitch or the meeting with the company, please email us on [email protected] or call us on 0207 437 2413. 
Written by: William Pryor of Bookbarn International